Home Security: 4 Security Types for Your Home
Posted by Jordan Matin on Monday, February 21, 2022 at 8:27 AM
By Jordan Matin / February 21, 2022
Comment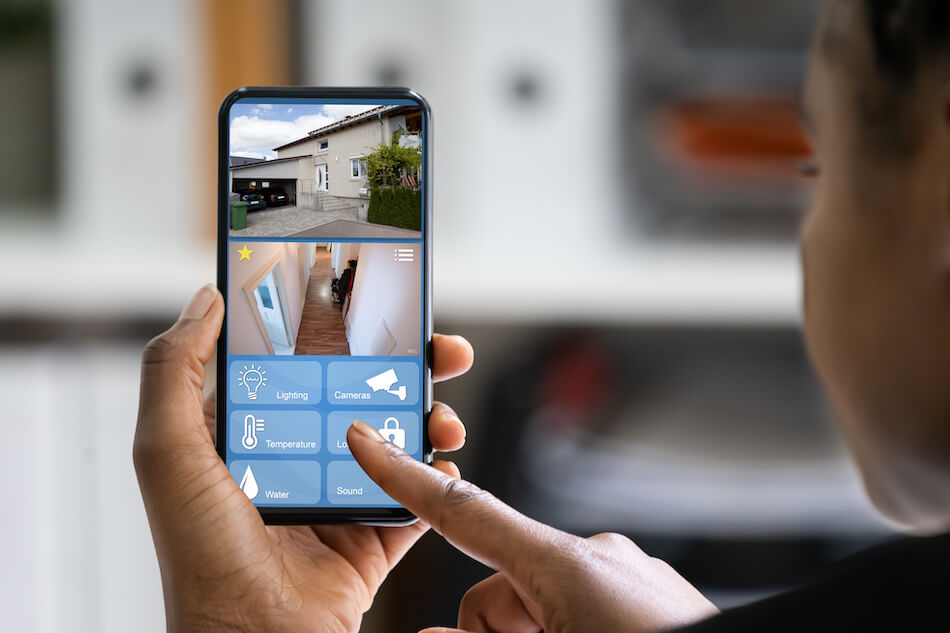 Property theft has been a recurring concern in the United States, but it appears that this type of crime is on the decline. FBI crime statistics show that home invasions have been declining for the past 16 years. This positive statistic can likely be attributed to the availability and affordability of home security systems. Homeowners can have continued protection and peace of mind by staying vigilant against intrusions and other common home hazards. Keep reading to learn about the top three types of systems that homeowners can choose to keep their property secure.
Hard-Wired Residential Security Systems
Hard-wired home security systems are the most enduring type of home protection in the realm of alarms. While these systems originated as basic installations that merely offered the sound of a loud ringing bell when activated, some upgrades can put them on par with modern systems, as well.
The most straightforward hard-wired systems connect to the home's electricity, which means that a power loss or a cut line from the outdoors can render the alarm dysfunctional. However, wise homeowners can back their system up with batteries that offer short-term protection during such incidences. To boost a hard-wired security installation, owners can connect it to the internet, which allows for additional alarms, sensors, and video cameras.
Wireless Home Alarm Systems
Wireless home security is the optimal choice for many of today's homeowners who desire features beyond noise deterrents. While going wireless requires routine updates and a watchful eye on batteries for each component, they are affordable, highly effective, and tend to have numerous features that surpass hard-wired systems.
Those who choose to connect their alarm features to a personal WiFi account can easily access their system and keep a close eye on their home via:
Access to 24/7 updates concerning activity
Live & recorded video surveillance
Remote locking and unlocking of windows and doors
Activating motion sensors in the home and on the surrounding property
Turning indoor and outdoor lighting off and on
With regular updates, wireless systems are challenging to hack, and owners who opt to employ the services of a monitoring company will have the option to allow their provider to manage these protocols.
Get Comprehensive Protection With Smart Home Security Systems
Those who want access to the latest high-technology security systems will likely prefer investing in a smart hub and security setup combination. While they operate very similar to wireless systems, these systems can be paired with other high ROI smart tech upgrades, allowing users to access even more features and functions.
Smart home hubs like Echo or Alexa give homeowners immediate views of where cameras are installed and the option for panning the entire area with the touch of a button. These recordings can be held indefinitely, transferred to hard drives, and offer instant access to law enforcement should a crime occur on the property. Need to let an approved guest or a repair person indoors while away or want to turn on the lights or heating/cooling system before arriving home? Smart home security is the ultimate choice!
As an additional perk, smart hubs give property owners access to any connected devices and systems compatible with the unit. Owners who work long hours, have dependents, or travel frequently can benefit tremendously from this type of security. Most with smart home security also pay a bit more for professional monitoring, which we'll look into more next.
Boost Protection with Monitored Home Security Systems
When a professional home security monitoring company backs up an alarm, the system itself will not only detect break-ins, but will send instant notification to emergency responders if the alarm is tripped. Depending on the system chosen, owners can also have additional protection, and quick response should fire or carbon monoxide be detected in the home. Some monitoring companies even offer medical emergency services included with the cost of monitoring.
Enjoy Greater Personal & Property Safety with Home Security
With just over 2.5 million burglary attempts annually in the US, home security systems are a must. Allow yourself and your family to feel safe at home with a reliable home alarm installation backed with professional monitoring.