Excellent High-ROI Energy-Efficient Upgrades Homeowners Should Consider
Posted by Alicia Smith on Wednesday, January 5, 2022 at 7:03 AM
By Alicia Smith / January 5, 2022
Comment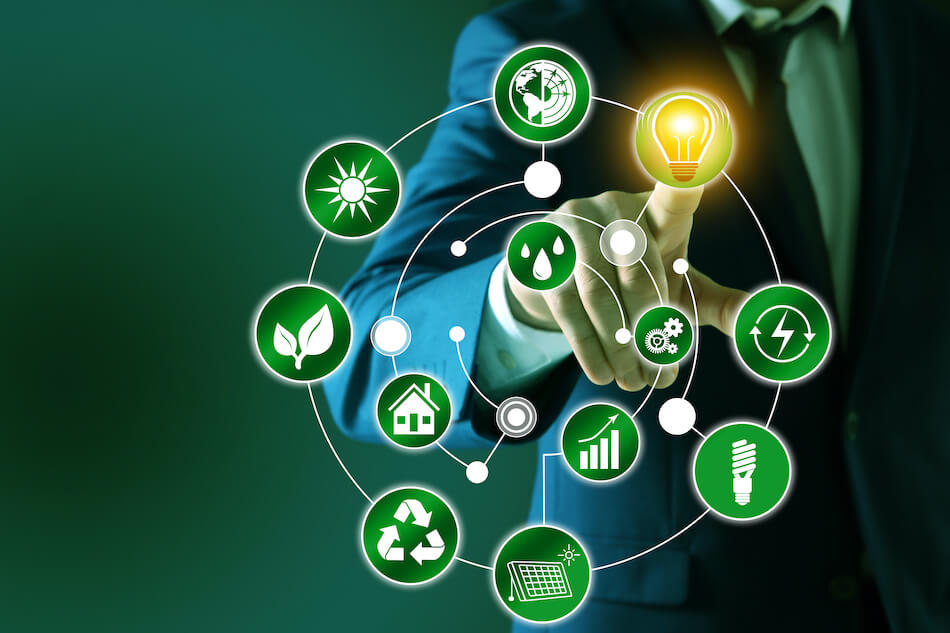 All homes need improvements and upgrades from time to time to improve a home's functionality or comfort levels. After overcoming the difficulties of getting a mortgage, homeowners should make the most of their purchase by optimizing their return on investment (ROI) with home upgrades that yield gains. Looking for excellent high-ROI energy-efficient upgrade options? Keep reading to learn about the top seven energy-efficient home upgrades.
Energy-STAR Appliances
Historically, appliances weren't built with energy efficiency in mind, but that's all changed today. Modern appliances are designed to save water and electricity, and ones that meet specific criteria earn an Energy-STAR rating (look for the yellow sticker). Homeowners seeking a solid ROI should consider replacing appliances such as dishwashers, refrigerators, ovens, standalone freezers, washers, and dryers. Even older smaller appliances, such as toaster ovens, microwaves, and toasters, can be replaced with more efficient Energy-STAR home appliances.
Smart or Programmable Thermostat
Traditional dial thermostats have become antiquated and don't offer homeowners any energy savings. Upgrading to a smart, or at least a programmable, thermostat gains almost an immediate ROI because the prices on these units have significantly come down in recent years. Smart thermostats automatically learn the routines and lifestyles of household members and, based on this, run more efficiently, turning on and off at times when heat or A/C is needed. Owners can also control their smart thermostats from their phones, making HVAC use even more efficient. Programmable thermostats allow occupants to set their HVAC systems to turn on and off at selected times but cannot be controlled remotely.
Tankless or Solar Water Heater
Traditional water heaters use incredibly high amounts of energy because water must constantly be heated, but newer ones are designed with energy efficiency in mind. Homeowners can upgrade their heater to a tankless or solar heater, reap the energy savings, and do good for the planet. Solar use is on the rise and, as this technology matures, it's become a more affordable option than it has been in the past. Tankless heaters have also come into maturity and, being tankless, don't heat water unnecessarily since these units heat on command.
Insulation and Sealants
Homeowners often overlook insulation upgrades because most homes are insulated at the time of build. This should be reconsidered, especially for older homes, since newer insulation types are far more efficient than ones made decades ago, not to mention they are made of sustainable materials. Homeowners can expect a robust ROI by using modern insulation throughout their homes. Sealant can also deliver a full return in areas that allow air to flow in and out. Areas in the home to check include windows, doors, attics, crawl spaces, ceilings, basements, underneath stairways, and around chimneys.
Vinyl or Wood Windows
Windows are one of the biggest offenders for high energy costs. According to statistics, homeowners can lose up to 30% of their heat or A/C due to poor windows. Replacing drafty windows with modern dual-paned vinyl or wood models that are Energy-STAR rated and NFRC certified can offer a considerable level of savings each year and offers an ROI of roughly 70%.
Smart LED Lights
LED lighting is a terrific option for energy efficiency because bulbs have a long lifespan, are durable, and offer brighter capacity. Smart LED lights take that efficiency up to the next level because homeowners have total control over the electricity use of their lighting. Energy-STAR rated LED bulbs to use approximately 75% less energy and last 25 times longer than incandescent bulbs, which generally means these bulbs yield a full ROI.
Steel Doors
Steel doors are air-tight and prevent undesirable drafts, which is a tremendous benefit in itself. Still, they also are suitable for home security and add a nice-looking aesthetic to any home. Steel doors are a home upgrade that generally yields a 90% to 100% ROI.
Energy-Efficient Homes Pay For Themselves
As both smart and green technologies continue to evolve, homeowners will likely find numerous ways to save energy and put more money back in their wallets. Statistics consistently show buyers desire eco-friendly, energy-efficient homes that highlight green features and are willing to pay more for them, suggesting any energy-efficient upgrade is a safe bet to yield a good ROI. Of the things to look out for when buying a home, earning a strong ROI should be at the top of your list.